FEAR NOT I AM STILL ALIVE
I KNOW
I KNOW WHAT YOU'RE THINKING
because just like I can hypnotize you over the internet I can mind read over the internet.
I was supposed to post this a few days ago.
WE HAD A HECTIC DAY, OKAY? and also I literally procrastinated all weekend but yeah no one really needs to read that. I have at least like ten blog posts I haven't read. Why did everyone conspire and post while I was procrastinating??? :P
But to make up for it, we have a post which I think is REALLY FUN for today! I hope you like The Princess Bride, because today, we're taking a look at readerly/writerly/bloggerly insights from the movie. What's that? You didn't think The Princess Bride had writerly insights?
Well prepare to be mindblown.
The Mindblowing Part
We shall start with this. This is a writer's trade, in a nutshell.
This pretty much sums up what I think of when I think of being a writer. SO DON'T DEBATE A WRITER ABOUT THE PRESTIGIOUSNESS OF THEIR WORK. CAUSE THEY HAVE MY PERMISSION TO CHUCK THIS AT YOU AND THEN LAUGH EVILLY. All writers have their evil laughs perfected, so you don't wanna mess with that. I mean, part of writing the villain is BECOMING THE VILLIAN. So don't get in an evil laugh war with a writer. You will fail.
This is a writer when you tell them to give up a secret from their novel. I MEAN, WRITERS ARE THE MASTERS AT NOT GIVING SPOILERS.
Or, if you try to get them to betray their friend's book secrets. Ha. Ha. Try that and let me know how it goes. We may tell our secrets to each other BUT NO ONE ELSE. It's mostly just for the critique purpose.
This is a reader when it appears as if the author is about to kill off their favorite character.
AND OF COURSE THE FAV CHARACTER STILL DIES. Because most writers love the feels. But that doesn't stop the poor, helpless readers from petitioning the dastardly author who has just ruined their lives with the stroke of a pen. *cue cackling* :P
And this is pretty much the author while the reader is flailing and weeping and sobbing over the death of the hero's best friend.
Because if someone told me they cried in my book, would I sympathize with them? NO WAY. I'd be like, I AM UTERRLY THRILLED MY BOOK TURNED YOU INTO AN EMOTIONAL WRECK SO THERE. It basically just means your writing is good. SO SORRY BUT NOT SORRY.
This is a writer trying to make a good first impression.
Because our social skilz probably aren't the most finely honed even if we're extraverts whaddya expect we spend a lot of time yelling at imaginary characters and running fingers over keyboards and trying to keep up with word goals.
This is a writer who is trying to kill their hero's horse but just can't do it.
Well yeah most likely but now you can be in my exclusive club.
Ahem. I mean, kill the hero's best friend? NO PROBLEM. Kill his horse, or his dog, or his chinchilla, NUH-UH. It's very strange, really.
When a reader's favorite book is insulted by some helpless individual who didn't know better.
Because dat is serious. YOU EXPECT ME TO SIT HERE AND LISTEN TO YOU CRITICIZE MY FAV AUTHOR? *draws lighsabre calmly*
because even though this is a princess bride post we all know Inigo Montoya would be amazing in a Star Wars movie
When someone asks a writer about their current WIP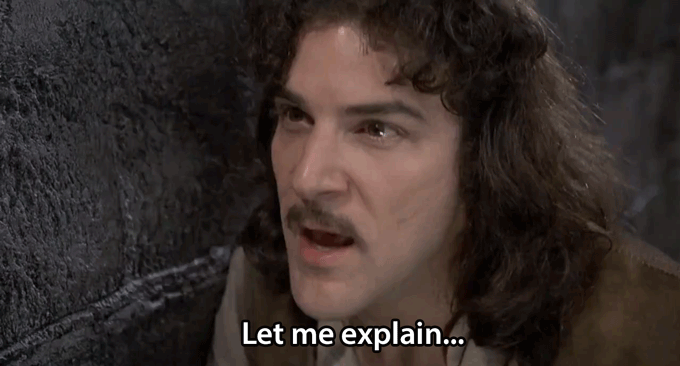 Do you want me to start at point A,B or Q? Cause this could definitely go on for a while.
When a reader predicts the surprise ending of a book and people ask him how he did it.
Because when you predict the ending FOUR PAGES BEFORE IT IS REVEALED
seriously though I did that once
then you definitely want some credit. Especially when everyone else is flailing over how hard the ending hit them.
When a reader picks up a book with no action and tons of wordy prose.
OKAY I DIGRESS SOME PEOPLE LIKE THAT KIND OF BOOK. Not me, that's for sure. Something needs to be happenin'.
When someone says they like neither reading nor writing.
SO. What do you do all day,
have that thing called a life
play ping-pong? I MEAN YOU GOTTA LIKE AT LEAST ONE.
(No idea how this relates BUT I REALLY WANTED TO POST IT. Prizes for whoever can come up with the best reason this relates to writing/reading/blogging.
well not really but if you have a thought tell me
So anyhow...)
When someone mentions to a blogger they think reading blogs is a waste of time.
READING BLOGS IS AWESOME. FEEL FREE TO DEBATE ME ON THIS ONE.
oh that's right it literally takes no guts for me to say that because most of you are reading a blog right now
When a writer tries to write a foreign character with an accent
Yeah I don't recommend that unless you're really experienced. I tried once. We're already ripping our reader's feels to shreds, it's nothing if we make them imagine an Irish accent.
When a blogger tries to quote someone famous without looking the quote up
EPIC. FAIL. But you risk the chance of no one having any idea of what the quote was originally before it was mutilated by the finicky memory of your bloggerly mind.
you can totally quote me on that one sorry not sorry
(oh oh I almost forgot Camp Nano started.
I'm totally freaking out
. I'm perfectly calm and ready. If you're also
freaking out
calm and ready, comment below and we can
freak out
be calm and ready together.
And if you have any April Fool's pranks stories (or just prank ideas) SHARE THEM WITH THE WORLD. Show off your amazing pranking skills. C'mon, ya know ya want to!)
~Jonathan