WE HAVE A COMPLETELY RANDOM POST FOR TODAY GUYS.
Because

Rebekah

tagged me for this super fun tag about villains. Thanks, Rebekah!
So... let's get started with this. It's basically that "Top Ten Tuesday" thing that I see ALL THE TIME (and I may try in the future) but in tag form. And I decided to do movie characters, which is really strange of me because I don't really like movies.
But if I do book characters then a lot of people won't know who they are. *sighs* MORE PEOPLE JUST NEED TO GO READ ALL THE BOOKS I LIKE OKAY? *points to favorite books page*
Plus it's easier to find pics of movie characters.
Anyhow, on to the post. (And btw these aren't really in any particular order, I sorta just jumbled them all in.)

RULES


1. Post the button. (YES it's a rule. *sighs in disappointment* Because I HAVE CANVA NOW and can design beautiful graphics.)
2. Thank the blogger who tagged you. (On a side note, if anyone gets tagged for something in which THIS ISN'T A RULE, I want to know about it.)
3. List your top ten favorite villains and why you chose them(they can be from movies or books).
4. Tag ten other bloggers. (You don't have to do ten, you're posting the button, we can bend a little. XD)
Kay so here's my ten villains. :D
1. Kylo Ren from The Force Awakens
I feel like this dude is a bit of a no brainer. He's creepy enough to be a good villain, but conflicted enough to not fall into the "miles beyond redemption" cliché. He's a complex villain, with just the right amount of backstory for us to be able to understand him. And, COME ON HE'S IN THE FORCE AWAKENS HELLOOOO. This basically gives him a license to be involved in light sabre wielding epicness. *nods*
(On an interesting sidenote, The Force Awakens is one of the movies I actually REALLY REALLY LIKE. *gasps* I think it may have been because I saw it theatres and there was nothing to distract me? Jury's still out on that one though.)
2. Gru from Despicable Me
YES HE TOTALLY COUNTS AS A VILLIAN. (at least in the first movie XD) Why do I like Gru? Well frankly it's solely based upon the fact that he has an army of Twinkie-resembling minions. And he's funny. And he has a freeze ray. (WHERE CAN I PROCURE SUCH A DEVICE)
3.The Bird from Unbroken
I hesitated to put this guy in, since he's actually a legit human being, but I finally decided to since I was already scraping for more villains. (I know, strange. I should be able to think of more. XD) He's cruel. He's cold. He's downright inhumane. (If you've seen or read Unbroken you can back me up. XD) And... that's all I've got for this guy. MY BRAIN IS DEAD TODAY.
4. Vizzini from The Princess Bride
This is my only other funny villain. Which is pretty much THE ONLY reason he's on the list. That and the fact that he won the award "Most Quotable Villain". *clears throat* (Totally a thing.) Also, GO SHORT PEOPLE.
5. Javert from Les Miserables
This guy is another great example of a conflicted villain. Torn between his sense of twisted justice and the concept of mercy, Javier makes a unique and fascinating villain. (And he's used to explore an interesting concept- the lines between justice and mercy.) He's not really all that creepy? At least not that I remember. But he's proof that not all villains have to be creepy.
6. Robert Callaghan from Big Hero 6
Well, I may or may not have chosen this villain solely based upon the fact that he has a cool mask and commands an army of tiny magnetic robots. #impressive He does have a good backstory though. *nods*
7. Col. William Tavington from The Patriot
*screams* EVERYONE TAKE COVER. This guy most certainly falls into the "miles beyond redemption" cliché. (Still, a good villain though.) He's cruel. He's heartless. He may or may not be demon-possessed. He kills people for no reason at all. (not exaggerating) Basically this is one of those villains that ruins the movie for you solely because HE DOESN'T GET KILLED SOON ENOUGH. Also, I think I remember him being pretty vain. UGH I can't stand vanity in guys. No. Just no.

8. Charles Kemp from Beyond the Mask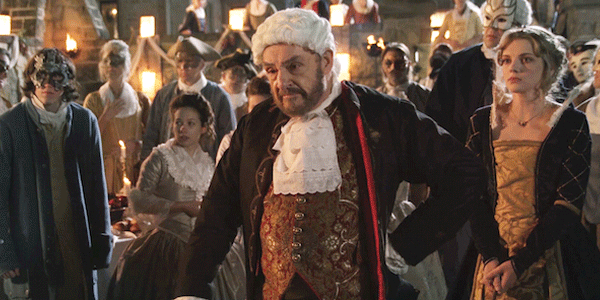 I think the reason this dude is on the list is just because of his extremely villain-like confidence. Like, "I can destroy Boston and cripple the Revolution and no one can stop me mwahahahaha." okay fine he doesn't really laugh like that BUT HE PROBABLY WOULD if the movie wasn't historical Also, HE ABANDONS HIS NIECE TO BE BURNT ALIVE. *spoiler* Yeah she survives anyways because the badguys never win. (but if you know of a book/movie in which the badguys win, I MUST READ THIS STRANGE LITERATURE.)
9. King Miraz from Prince Caspian
He's mean. He's cruel. He murders his brother. Overall, he's just not a very nice individual. *gasping* (NO. WAY. He has such a nice face. *snickers*) He stoops to whatever means necessary to achieve his plan of taking the throne for himself, twisting the truth to suit his own means. Even his evil counselor people (NO IDEA what their names are) turn against him.
10. Pitch Black from Rise of the Guardians
So... basically this guy is just on here because I couldn't come up with any other villains. *hides* (The other suggestions were the dinosaur thing from Jurassic World- hardly a villain- and Prince Hans from Frozen. No thank you.) Not that Pitch wasn't a good villain, I just don't remember hardly anything about him. But hey, look at the pic. CREEEEEEPY. Plus I remember he has these scaryish nightmare horse thingies or something. (in the back I think) *shrugs*
So there you have it, folks! What did you think of my top ten villains? Did you agree? Is there anyone else you would have put on the list?
As far as tagging goes, I'm not gonna tag anyone just cause this tag requires a bit more thought than a normal tag. XD But if you want to try, GO FOR IT. Even if you can't think of quite ten, you can still give it a shot! :D
- Jonathan