HELLO EVERYONE I have arrived right on schedule (hey don't you raise your eyebrows at me) to deliver advice to you on what to do when you don't know what to blog about. You're welcome. And no I am not writing this post at myself because why on earth would I do something like that? I've got everything down, obviously. Ahem.
1. Scream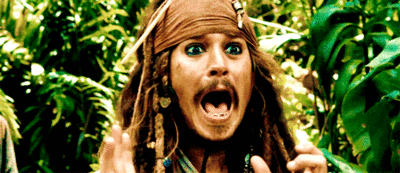 Because this is obviously the logical solution. Everyone knows that screaming ALWAYS HELPS MATTERS. Don't question.
2. Run from your blog
Aka, shut your computer and put it as far away from you as possible. Then fly to Fiji because that will make it even further from you.
3. Throw something
Bonus points if this object is thrown at your blog. However it's probably wise not to maul your blog permanently because you might want it back at some point. Plus, you don't want it to turn against you.
4. Stall
Just insert random posts [sort of like this one]. No one will ever know that you're suffering from blogger's block. Of course not.
5. Pretend like you know what you're doing
Actually this is me 100% of the time to be honest. Whoops. Sorry. (and yes I know I've used that gif before but it is just so perfect so I'm using it again)
6. Pretend like your blog doesn't exist and stalk other blogs to get ideas.
BUT DO NOT STEAL IDEAS. That is very rude and entirely unacceptable in the blogiverse. Just look around and maybe you'll get inspired or something.
7. Cry
It's sort of like screaming only more dramatic (I think), more exhausting, and even less helpful. Because I'm just full of good advice today, right? XP
8. Blame it on NaNo
[actually to be honest if I did have blogger's block that's what I do so this is 100% valid]
9. Unleash a Star Wars gif, they'll never fail you
Okay but make sure you don't use Kylo Ren because he might fail you. BB8 is good though. Also Han Solo.
10. Ask your minions for suggestions
No I'm not asking for suggestions because I obviously know exactly what my next post will be about. Ahem.
SO YES IT'S BEEN A WHILE BETWEEN POSTS. I shall leave the reason for that up to you to induce. xP Anyone ever had blogger's block before? How does it feel? (because never having had it I'm curious. Obviously.)
~ Jonathan